Our Make Ready Clean
Move-In and Move-Out Residential Cleaning Services in San Antonio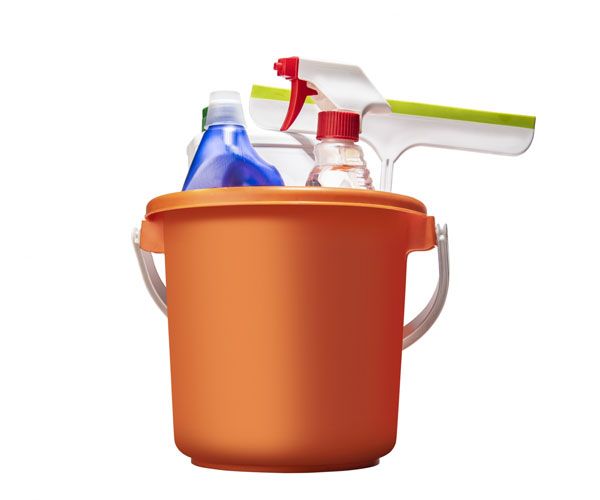 Professional House Cleaning Services In San Antonio And Austin
There's no doubt about it — moving can quickly become stressful. From packing all of your belongings to making sure everything gets from point A to point B safely, there's a lot you have to keep track of. Not to mention, you need to make sure the home you're moving out of is clean for the next residents, while also making sure the new home you're moving into has been cleaned and sanitized before you and your family arrive.
That's where Maid Affordable comes in. We are a professional house cleaning company that provides move-in and move-out cleaning services, or as we like to call it, Make Ready Clean. Whether you're wanting a residential cleaning company to perform a deep clean once you've moved out of your Austin home, or you're wanting professional cleaners to make sure your new San Antonio home is clean from all dirt and debris left behind by the previous residents, we can do it all. Continue reading to learn more, and book an appointment today!
Professional Cleaning Services You Can Trust In San Antonio
As mentioned before, when you're in the midst of moving from one place to another, you have a lot you need to get done. The last thing you want to worry about is scrubbing toilets and dusting every inch of your new or old home. Luckily, when you hire Maid Affordable in San Antonio, you don't have to! We will take care of all deep cleaning so you can focus on more important things. There are several reasons why we are the preferred cleaning company in San Antonio for move-in and move-out cleaning services, including:
All of our staff has completed training for "Combating COVID-19 While Cleaning" based on principles taught by OSHA, the CDC, ISSA, and GBAC.

We have provided exceptional home cleaning services for more than 15 years.

We provide a satisfaction guarantee with all of our services.

We do not require contracts, ever.

We are a locally owned company.
Make Ready Clean: What To Expect
Our Make Ready Clean, also known as move-out or move-in cleaning services, is essentially the final clean of an empty home, once it's vacant. At this point, we clean every nook and cranny. This ensures the home is thoroughly cleaned and all dirt, germs, and bacteria are eliminated to provide a fresh slate for the new residents! Keep reading to learn more about what's included in a Make Ready Clean.
Living Areas and Bedrooms
The Make Ready Clean entails just that — making the space ready for the next residents, whether it be making it ready for you and your family to move into, or for the new residents that will move in after you. Here is what we'll do in regard to cleaning the living room and bedrooms:
Carpets vacuumed and edged

Clean window sills and tracks

Baseboards dusted and wiped down

Wash and dry hard floor surfaces

Stairs vacuumed

Clean closet shelves and drawers

Dust furniture and knick knacks (if applicable)

Clean all ceiling fans and light fixtures

Remove cobwebs

General dusting

Clean inside of windows
Bathroom Cleaning Services
At Maid Affordable, we know how important it is to have clean, sanitized bathrooms. When you book the Make Ready Clean, here is what our professional cleaners will take care of for you:
Tiles, walls, and bathtubs cleaned and disinfected

Shower and shower doors cleaned and disinfected

Clean the medicine cabinet

Clean window sills and tracks

Baseboards dusted and wiped down

Mirrors cleaned and shined

Sink and counters cleaned and disinfected

Floors washed and disinfected

Clean and disinfect the toilets

Shine and clean chrome fixtures

Wipe down outside and inside cabinets and drawers

Cobwebs removed

General dusting

Clean inside of windows
Kitchen Cleaning Services
The kitchen is an area in your home that is used virtually each and every day. With that being said, there is a lot that can pile up over time if it isn't properly cleaned routinely. Not to worry. Our professional cleaning company in San Antonio is here to clean the kitchen from top to bottom to the point where you won't even be able to tell there was a family using the space before you arrived. Here is what our kitchen cleaning services entail with the Make Ready Clean:
Scrub the sink

Clean window sills and tracks

Baseboards dusted and wiped down

Clean the interior and exterior of the refrigerator

Clean the outside of the range hood

Clean the top and front of the stove

Clean the interior and exterior of the oven

Clean and disinfect the sinks and shine the chrome finishings

Clean and disinfect the countertops and backsplash

Clean outside and inside of the cabinets and drawers

Clean the exterior of large appliances

Wipe down the inside and outside of the microwave

Clean and disinfect the dishwasher

Mop the floors

Discard any trash

Remove cobwebs

Thorough dusting

Clean the inside of the windows
Schedule Move-In and Move-Out Cleaning Service in San Antonio Today!
Moving is exciting, and what better way to celebrate moving into a new space than having it professionally cleaned before you arrive? Maid Affordable has professional cleaners that are highly trained, respectful, and will go the extra mile to provide you with the deep cleaning services you need in Austin, San Antonio, and the surrounding communities. Book a cleaning service today!