"BKF" CLEAN
PROFESSIONAL HOME CLEANING SERVICES IN SAN ANTONIO
Bathroom Cleaning | Kitchen Cleaning | Floor Cleaning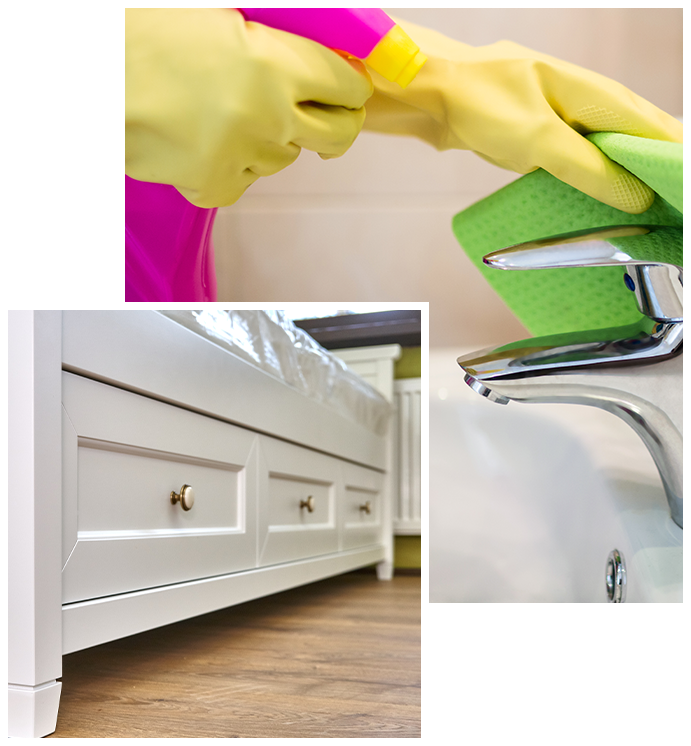 Professional Home Cleaning Services in Austin and San Antonio
Are you looking for a residential cleaning company in the San Antonio and Austin areas you can depend on to give your home the cleaning it needs at an affordable price? Maid Affordable provides the residential cleaning services you need! We offer a variety of home cleaning services, one of which is our "BKF" Clean. This service will ensure your bathrooms, kitchen, and floors are properly cleaned and sanitized. Continue reading to learn more, and be sure to book an appointment today! We offer one-time cleanings, recurring weekly cleanings, bi-weekly cleanings, monthly cleanings, and more!
Maid Affordable — San Antonio's Preferred House Cleaning Business
Our highly-trained, professional cleaners at Maid Affordable treat your home with the utmost care and respect. We will leave your home looking better than we found it and will be extremely careful with all of your belongings. It is due to our attention to detail and the professionalism of our staff that we are the preferred cleaning company in the San Antonio area. Here are a few more reasons why so many homeowners trust Maid Affordable with their home cleaning needs:
All of our staff has completed training for "Combating COVID-19 While Cleaning" based on principles taught by OSHA, the CDC, ISSA, and GBAC.

We have provided exceptional home cleaning services for more than 15 years.

We provide a satisfaction guarantee with all of our services.

We do not require contracts, ever.

We are a locally owned company.
If you're ready to have an exceptionally clean kitchen, bathrooms, and floors, give our professional cleaning company a call today. We are here to provide you with cleaning services that will leave your home cleaner than ever.
"BKF" Clean
Our "BKF" Clean is one of our most popular home cleaning services we offer because it targets the most used areas of a home — the bathrooms, kitchen, and floors. These are areas in your home that you and your family use each and every day, meaning they often attract the most clutter and germs in the process. Not to worry, our professional cleaners at Maid Affordable are here to clean and sanitize it all so you can live in a clean, comfortable home.
Bathroom Cleaning Services
The "B" in "BKF" stands for bathrooms. From bathing to brushing your teeth, grooming, and getting dressed for the day, your bathroom is where all of this and more happens. Seeing as you use the bathroom to keep up on your hygiene, it's important to make sure it's clean and sanitized as often as possible. When you hire our professional home cleaning company in San Antonio for a "BKF" Clean, here are the bathroom cleaning services we will provide:
Clean and sanitize showers, tubs, and toilets

Clean mirrors, countertops, and sinks

Polish chrome and brass hardware

Sweep, vacuum, and/or mop floors

And more
Your bathrooms will shine when our professional cleaners are done cleaning them. You will be hard-pressed to find any leftover toothpaste in the sink, water stains on the shower floor, or built-up dirt and dust around the toilet when we are finished. When it comes to deep cleaning a bathroom, we are the pros for the job.
Kitchen Cleaning Services
Now it's time to cover the "K" in our "BKF" clean. If you guessed the kitchen, you're spot on! The kitchen is a common place for families to spend time within the home. Not only is it where food is prepared throughout the day, but it usually is an area in the home where people gather to visit, catch up on work, and more. That being said, you want to make sure you eliminate any germs or other bacteria that might be lingering in your kitchen to keep you and your family healthy.
At Maid Affordable, we take great pride in our kitchen cleaning services. Here are a few of the many cleaning services we will complete in your kitchen with the "BKF" Clean:
Clean inside and outside of the microwave

Clean the stovetop

Clean and sanitize the countertops

Clean under items on the countertops

We don't just clean around items, we take the time to lift them up and ensure a deep clean

Clean the outside of small appliances

Clean the outside of the refrigerator, dishwasher, oven, and trash compactor

And more
Floor Cleaning Services
You would be amazed at what a difference a clean floor can make in your home. No, we aren't just talking about cleaning up items to expose the floor itself, but a deep cleaning of your floors. In doing so, we are able to remove dirt, hair, dust, and other pollutants from your floors to not only clean the floors themselves, but also ensure those particles aren't entering into your home's airflow. Our Maid Affordable staff will vacuum all carpets thoroughly, as well as sweep, vacuum, and mop all tile, laminate, and hardwood floors. When we are finished, your floors will look like new!
Schedule Home Cleaning Service in San Antonio Today!
When your bathrooms, kitchen, and floors in your home are clean, you can come home after a long day and just relax.

Maid Affordable offers budget-friendly pricing for all of our cleaning services, including our popular "BKF" Clean.
For more information about our maid service in Austin, San Antonio, and surrounding communities, please contact us today. If you're ready to schedule your home cleaning appointment, book online now!