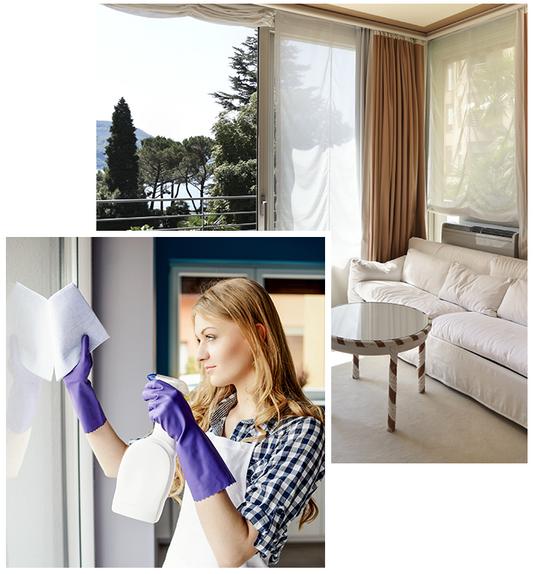 Frequently Asked Questions
At Maid Affordable, we work diligently to ensure your home is fully cleaned whenever you hire us. Our process is straightforward and simple so we can put all of our efforts into getting your home cleaned. Here are some of the common questions we get:
How does Arrivals & Entries Work?
We offer both morning and afternoon appointments. Our professional cleaners will arrive between 8a.m.-9:30a.m. for morning appointments, and between 12p.m.-2:30p.m. for afternoon appointments. We work hard to accommodate your schedule, so if you need an earlier or later appointment, just let us know and we'll find an agreeable time for everyone. We clean homes Monday through Friday. We also offer Saturday cleaning services on a limited basis.
How do I Pay?
The majority of our clients pay via credit card. We accept Visa, MasterCard, Discover, and American Express. This is typically the most convenient method for everyone. We will, however, gladly accept checks if that is easier for you or your preference. Payment is due prior to, or at the time of, each residential cleaning service we provide.
Pets
Many of our clients have pets that we've come to know and love. We are comfortable working around animals, but rely on your experience with your family pet when it comes to how the pets should be handled. Even the friendliest pets may feel territorial when a stranger is in their home. Aggressive dogs and cats must be secured.
How Are Our Prices Set?
When you contact us for your free estimate, we will take all the information you give us and provide the cost of the project depending on how in depth you want the cleaning. If you are looking for a recurring service we will send you a plan with the hours and days, cost, and what we will be delivering.
How to Prep for Our Services?
For the rooms that you want to clean, make sure that there are no items that you don't wish to throw away on the floor or spread out the room. Also, ensure that there are no people using the rooms or working in the space to avoid interrupting them and so we can get the job done faster.
Who Provides the Cleaning Products?
At Maid Affordable, we provide the products that will be needed for the job. After years of experimenting with different products, we have found the best products we can use for your home. We are concerned about the environment and your families well being, that's why we use safe products.
Which Areas of Your Home Can We Clean?
We specialize in cleaning every corner of your home. We can clean your bathrooms, kitchen, bedrooms, living areas, and more!
What are Some of the Steps you Take When Cleaning a Home?
Here are some of the things we do when you hire us for a cleaning job:
Dust from top to bottom, including air ducts, ceiling fans, mini blinds, window sills, and baseboards
Dust and polish furniture and wall hangings
Sweep, vacuum, and/or mop floors
Dust the woodwork
Change bed linens when an extra set is placed out
Empty the trash
And more