Our "Checklist Clean"
Full-House Cleaning Services in San Antonio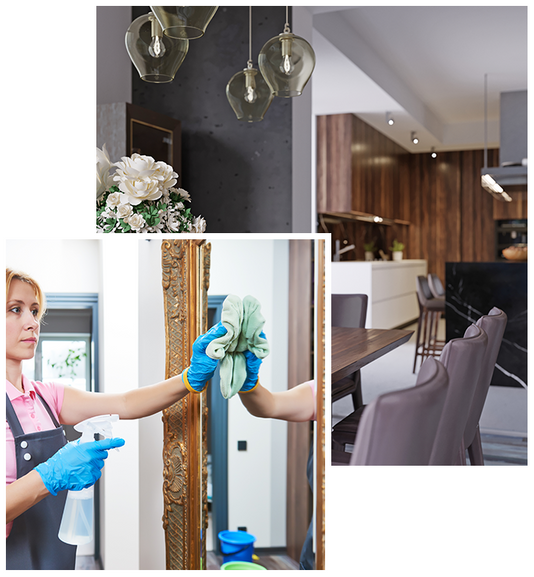 Home Cleaning Services You Can Trust
Maid Affordable is a professional house cleaning company that provides exceptional residential cleaning services to homeowners in Austin, San Antonio, and the surrounding areas. Our Checklist Clean is a full-house cleaning service we provide to our customers however often they need it, including one-time, recurring weekly, bi-weekly, or monthly. Continue reading to learn more, and book your cleaning appointment with us today!
Preferred Professional Home Cleaning Company in San Antonio
When it comes to inviting someone into your home to provide deep cleaning services, you want to make sure it's someone that you can trust, is highly trained, and is professional. When you hire Maid Affordable in Austin, you will receive all of that and more. All of our professional cleaners are thoroughly and professionally trained and will treat your home with the utmost care and respect. Here are a few reasons why we are the preferred home cleaning company in San Antonio:
All of our staff has completed training for "Combating COVID-19 While Cleaning" based on principles taught by OSHA, the CDC, ISSA, and GBAC.

We have provided exceptional home cleaning services for more than 15 years.

We provide a satisfaction guarantee with all of our services.

We do not require contracts, ever.

We are a locally owned company.
If you're looking for affordable and reliable residential cleaning services in the San Antonio and Austin areas, Maid Affordable is the professional cleaning company you can trust to leave your home clean and sparkling. Book an appointment today!
The Checklist Clean
Our Checklist Clean is a deep cleaning service for your home that will take care of all the messes, no matter how big or small. Our professional cleaners will make their way around your home, cleaning it from top to bottom with the best products and cleaning techniques in the industry. When we are finished cleaning your home, it will look the cleanest you've ever seen it. Continue reading for more details on how we clean each room in your home, and book an appointment with Maid Affordable today. If you are interested in our deepest cleaning, you should look at our Dream Clean!
Bathroom Cleaning
Your bathroom is an area in your home that you use each and every day. That being said, you want to make sure it's sanitized properly so that you have a clean space to use. Here is what our professional cleaners at Maid Affordable will take care of during the bathroom cleaning portion of the Checklist Clean:
Clean and sanitize showers, tubs, and toilets

Clean mirrors, countertops, and sinks

Polish chrome/brass hardware

Sweep, vacuum, and/or mop floors

And more!
In addition to the services listed above, we do much more! Our professional cleaners have an extreme attention to detail and will clean, polish, and sanitize everything they see to ensure the best clean possible.
Kitchen Cleaning
Seeing as your kitchen is where you prepare food as well as a general gathering area in your home, it's important to ensure it's clean and sanitized at all times. When you book our Checklist Clean, here are a few of the cleaning services we will provide in your kitchen:
Clean and sanitize sinks
Load dishwasher (if empty)
Clean countertops
Clean exterior of all major appliances
Clean inside and outside of microwave
Clean stovetop
But, we don't stop there! We will also sweep and mop your floors, as well as dust, take out the trash, and complete any other cleaning services needed to provide you with a spotless kitchen.
Full Home Cleaning Services
While the bathrooms and kitchens in homes are typically used the most and need the most frequent cleanings, we at Maid Affordable are here to keep your entire home clean. In addition to the bathroom and kitchen cleaning services we complete during the checklist clean, we will also:
Dust from top to bottom, including air ducts, ceiling fans, mini blinds, window sills, and baseboards

Dust and polish furniture and wall hangings

Sweep, vacuum, and/or mop floors

Dust the woodwork

Change bed linens when an extra set is placed out

Empty the trash

And more
We are committed to keeping your home in tip-top shape so you and your family can focus on spending quality time together. Keep in mind, we do expect your home to be in order and somewhat picked up to facilitate a cleaning. If you're ready to have a clean and inviting home, give us a call today.
Schedule A House Cleaning With Maid Affordable Today!
We at Maid Affordable in San Antonio provide a satisfaction guarantee with all of our house cleaning services. We are certain that your expectations will be met — if not exceeded — when you hire our professional cleaners for the job. Book an appointment today to schedule your next cleaning, and leave the rest to us!