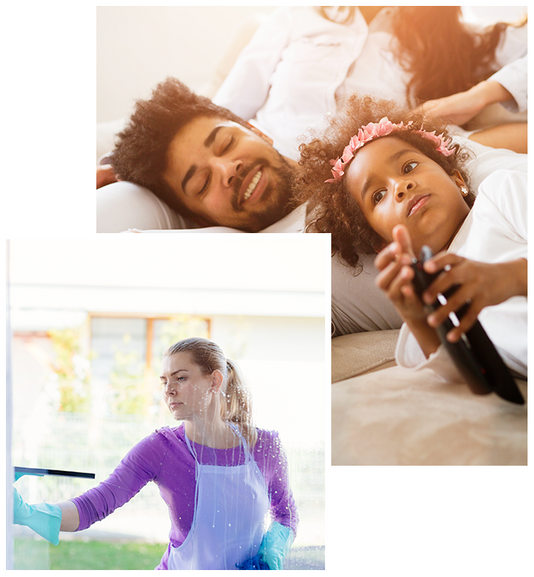 Professional House Cleaning Services in San Antonio
Wouldn't it be nice if you could come home to a clean house? And by clean, we don't just mean the clutter of items picked up, but a deep clean where there isn't a speck of dust or water stain in sight. Lucky for you, we at Maid Affordable offer a maid cleaning service called Dream Clean that will leave your home looking cleaner than you've ever seen it. Continue reading to learn more about what is entailed in our Dream Clean, and book an appointment today.
Why Trust Our Professional Cleaning Services?
At Maid Affordable, we understand that your home is your safe haven. With that being said, you don't want just anyone coming into your home. Rest assured, when you hire our professional cleaners in Austin, you can have peace of mind knowing that your home and all of its belongings are in the best hands. We hold our staff to an extremely high standard to ensure customer satisfaction. Here are a few of the reasons why you can put your trust in our hands:
All of our staff has completed training for "Combating COVID-19 While Cleaning" based on principles taught by OSHA, the CDC, ISSA, and GBAC.

We have provided exceptional home cleaning services for more than 15 years.

We provide a satisfaction guarantee with all of our services.

We do not require contracts, ever.

We are a locally owned company.
You work hard and have a lot on your plate each and every day, not to mention trying to keep up with daily chores and cleaning to keep your home looking nice. Let our team at Maid Affordable take that stress out of your day so you can focus on more important tasks. We offer affordable pricing and exceptional cleaning services. Book an appointment now!
The Dream Clean
Our Dream Clean service gets its name due to the nature of the high-quality maid service we provide. In a dream world, your entire home would be spotless from top to bottom without a trace of dust, crumbs, or clutter, right? When you book our Dream Clean, you will receive all of that and more!
Dream Clean Basic Tasks
Our Dream Clean includes everything from our Checklist Clean service plus a lot more. Here is a high level of what you could expect with the Checklist Clean:
Bathroom Cleaning

Sanitization of showers, tubs, and toilets

Cleaning of mirrors, countertops, and sinks

Polishing of chrome and bronze hardware

Sweeping, mopping, and vacuuming of floors

Kitchen Cleaning

Sanitization of sinks

Loading of dirty dishes (if dishwasher is empty)

Cleaning of countertops and exterior of all major appliances

Throughout The Whole House Cleaning

Dusting

Polishing of furniture

Sweeping, mopping, and vacuuming

Emptying of all trash
Now that you know what basic home cleaning services are included in our Dream Clean service, let's dive into all of the other house cleaning services you will receive
Dream Clean Exclusive Tasks:
Lamps and lampshades dusted or vacuumed w/attachment

Blinds and shutters hand cleaned

Moldings, window sills, and lock ledges hand cleaned

Doors and door frames hand cleaned

Wastebaskets emptied/cleaned/relined

Pictures and knick knacks hand cleaned

Woodwork on stairs hand cleaned

Lower air return vents vacuumed

Baseboards (hand washed or wiped, reachable w/out moving furniture)

Carpet edges (vacuum crevices)

Special attention to heavy dust build-up
Dream Clean Kitchen Tasks:
Stovetop and drip pans scrubbed

Cabinets washed and polished from top to bottom

Light switch plates cleaned

Special attention to build-up in kitchen
When we complete a Dream Clean service for you, we will use step stools to get to hard-to-reach areas. However, we do not climb higher than a two-step ladder to keep our staff safe. As a workaround, we will do our best to clean those hard-to-reach areas with an extension duster! Furthermore, we cannot move your furniture, but we will do our best to reach visible places, whether it be by hand or with an extension duster to make sure every inch of your home is clean. If you're ready to see your home the cleanest it has ever been, book an appointment today!

Schedule A Dream Clean With Maid Affordable Today!
At Maid Affordable in San Antonio, we are here to provide you with exceptional house cleaning services that are affordable and effective. With our Dream Clean, you will have a home that not only looks clean, but one where we have eliminated dirt, pollutants, and other bacteria that can build up on your home's surfaces over time if not cleaned properly. Book an appointment today, and have a spotless home tomorrow.